Modern customer service receives a large number of requests for help and assistance through all kinds of communication channels. Examples of these are social media, the website, email and the traditional telephone. More and more companies are integrating an intelligent virtual assistant or chatbot into the website to save time and staff in the customer service center. What can you gain by doing this?
What is a chatbot
A chatbot is an automated virtual assistant with which the customer can have a conversation. Automated answers, pre-programmed questions and a knowledge base ensure that the chatbot itself is intelligent and can really help the customer. This automation of customer contact saves the customer service center time. If the question is too complex, or if the customer explicitly asks for an employee, they can of course be transferred to a call agent.
Supervised learning
The chatbot is intelligent, which means that it learns from customers' questions. Any given feedback is saved. The designated chatbot supervisor can evaluate the questions and adjust the knowledge base so that there are suitable answers in the knowledge base for any situation. Expansion is possible anytime, anywhere, and can also be automatically saved with sufficient positive feedback.
Automatic learning
Employees of the customer service center can monitor the chat or engage when their help is requested. The technology can also make suggestions in the chat during a conversation between the customer and a customer service center employee. The smart technology can also automatically learn from the customer's conversations with a customer service center agent.
Advantages
In addition to the fact that the chatbot ensures that customer service can be made available 24/7, there are other advantages. Known and frequently asked questions are answered immediately, which shortens the waiting time for the customer. The system requires confirmation by the customer of the correct answer to ensure that they are really helped. In addition, if the chatbot can't find a correct response, the chat or conversation is immediately transferred to a real employee to prevent a customer from getting frustrated or not being offered the right solution.
To summarize; an integration with chatbot functionality offers a wealth of possibilities and is a first step towards the customer service center of the future.
Do you want to learn more about what Unexus can do for you with our chatbot technology? Contact us to find out more!
Unexus Contact Solutions
W: Unexus.nl
A: Tolweg 3-IV, Baarn, the Netherlands
T: +31 35 7009 760
E: info@unexus.nl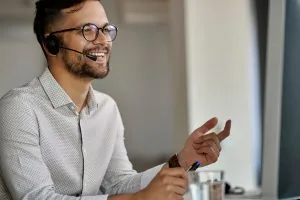 We are thrilled to announce that our omnichannel platform, Unexus Connect, has earned full Microsoft 365 certification! This certification allows ...