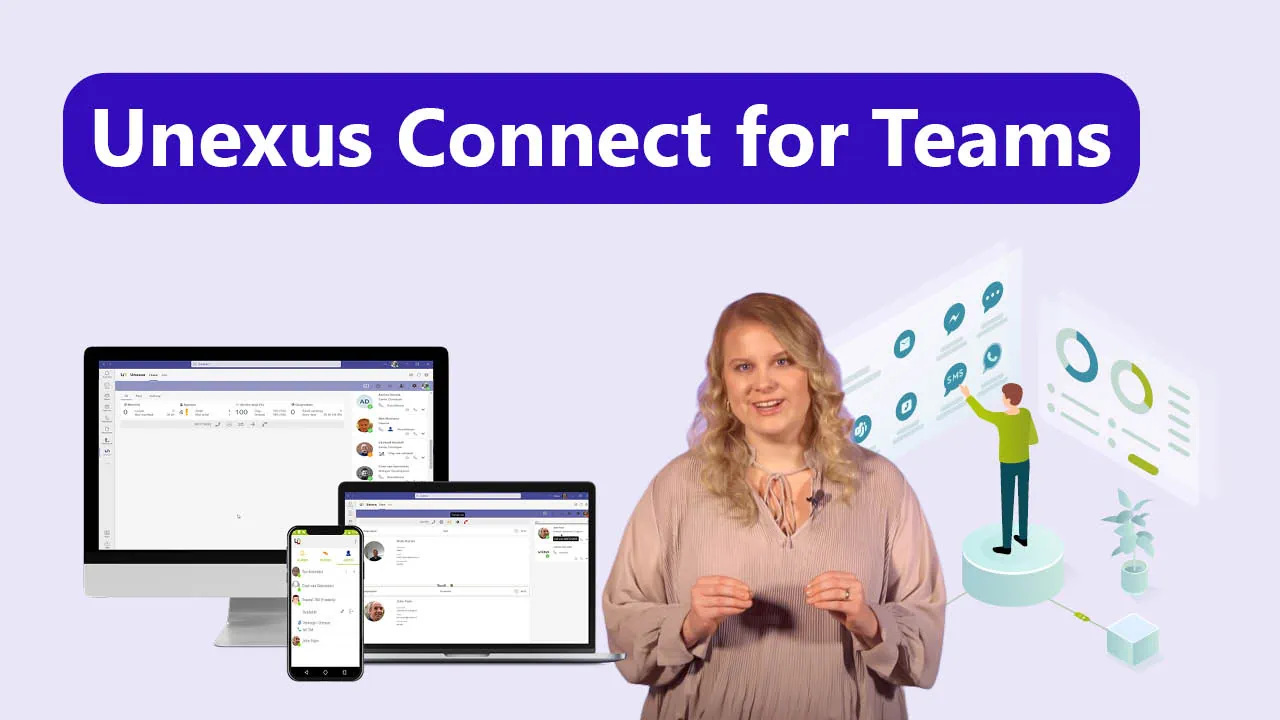 Contact Center with Unexus Connect for Teams
Want to enable contact center features from within Microsoft Teams? Teams provides the basis for internal, location-independent communication. Still, you need more than only Microsoft Teams in order to use it as a customer service solution. Turn Teams into your contact center with Unexus Connect for Teams.
Direct delivery and service for the best solution for your contact center
We deliver a self-developed communication platform. We implement the platform ourselves. We don't work with intermediaries or consultants. Skip those steps and work with us directly in order to find the best solution. We offer plenty of room for customization. Better yet, we continuously refine our platform based on our customers' input!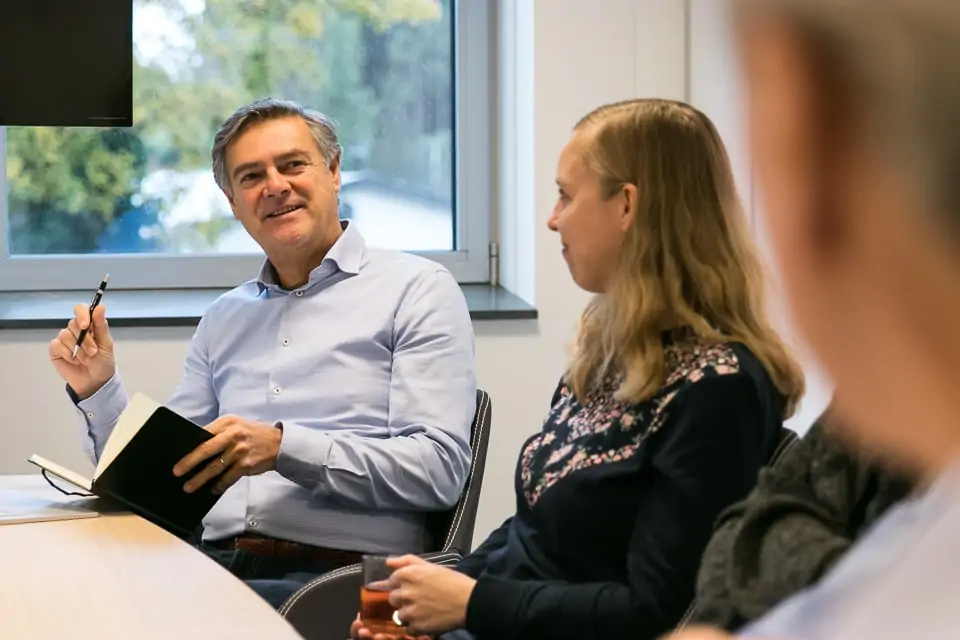 4 advantages of Unexus Connect for Microsoft Teams
Microsoft Teams integration
Create your contact center with Microsoft Teams and Unexus. Manage your accessibility, expand with Teams Calling and integrate Teams into your applications.
Presence management
Oversee the availability of all employees at a glance. Employees can indicate when they can process questions and who best to be on-call for customers.
Microsoft Teams calling
Set up your external telephony with Microsoft Teams Direct Routing and combine the benefits of Unexus Connect and MS Teams.
Smart routing
Continue to work on insight and improvement with routing of Microsoft Teams telephony via the Unexus platform.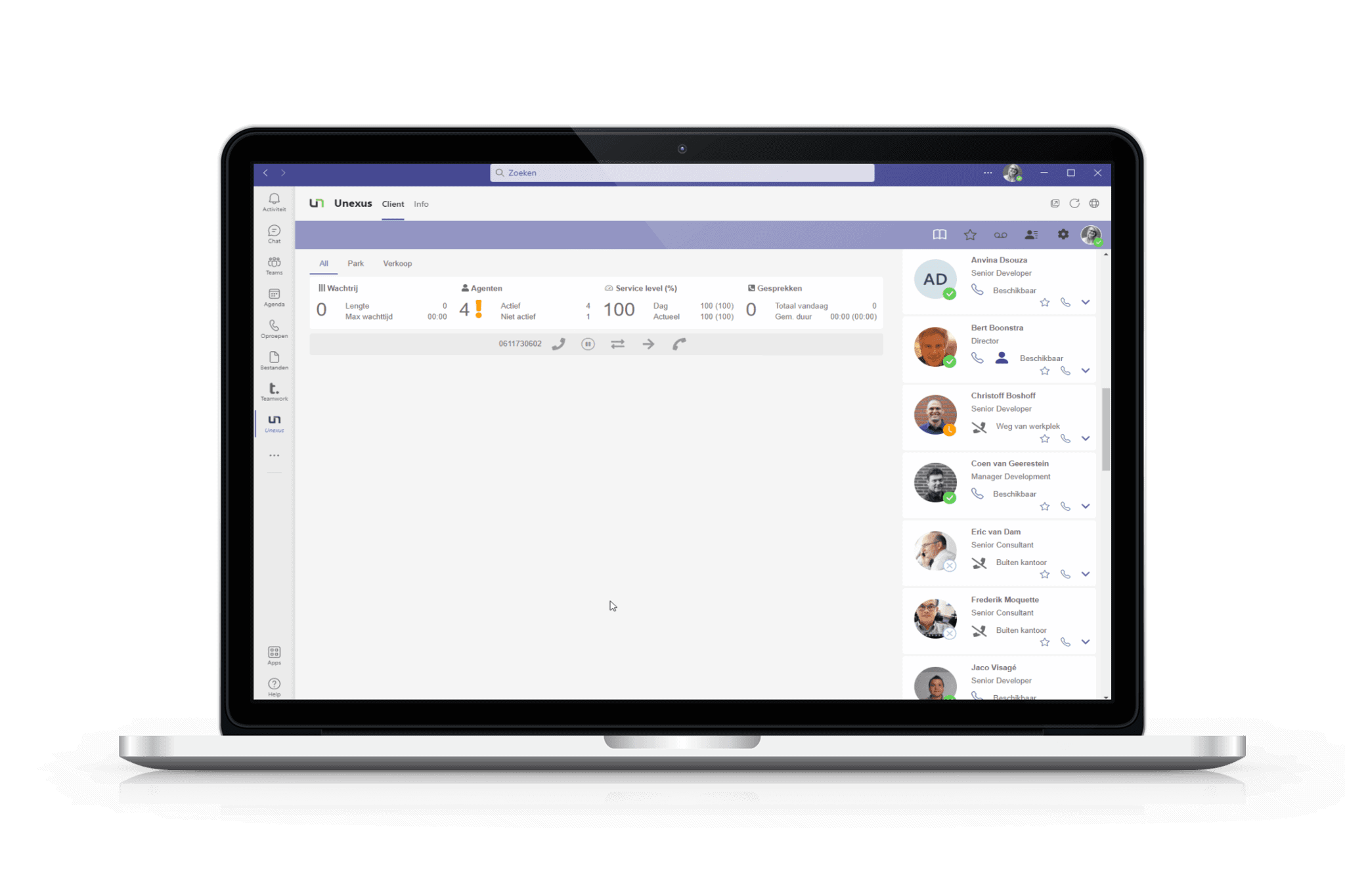 Work with Unexus Teams Client in-app
Unexus also offers an application that runs within Teams. You can download this application in the Teams app store. It's a great solution for small contact centers or your organization's back office. This in-app contains the Unexus telephony functions, such as switching into or out of a group and outbound number selection – easy to use within the Microsoft Teams environment.
Other organizations preceded you
Customers regularly ask us whether they can make more use of Microsoft Teams in their contact center. After all, customers often already have licenses and want to utilize these as best they can. Whether you've been working with Microsoft Teams for two years already or are just beginning, you can still get more out of your customer communication. With Unexus Connect for Teams you create more options for your availability.
We are extremely happy and enthusiastic about our collaboration as well as the telephony system.
Joyce Schellekens
KCC staff, De Dommel Water Board
We notice that Unexus is pro-active about everything. From Covid-related changes to ongoing talks about the ambitions we still have for our communication solutions. They actively brainstorm with us, which is why we are true partners. How can we improve things? For example, they even investigated which headsets best match our telephony.
Arjen van der Zee
ICT Coordinator, Stek Wonen
Unexus Connect is a stable system, and if there's an issue, it's quickly resolved. There is a lot of extensive knowledge at support, and rapid feedback if there are questions and/or problems. You guys pro-actively work with us and also follow the latest trends with regard to social media.
Marlys van Egmond
ICT staff and first point of contact at the Stek Wonen Service Desk
The Unexus omnichannel environment was delivered to the municipality of Venlo to our complete satisfaction. As the implementation project manager, I am highly satisfied with the product and supplier.
Rob aan de Brugh
Information Management Project Manager, municipality of Venlo
Unexus is a very informal company. They don't make things difficult when they don't have to. They have fair prices and honest service provision. Collaboration with them is simply very good, something I am glad to mention.
Andy Heuts
IT Manager, ZOWonen