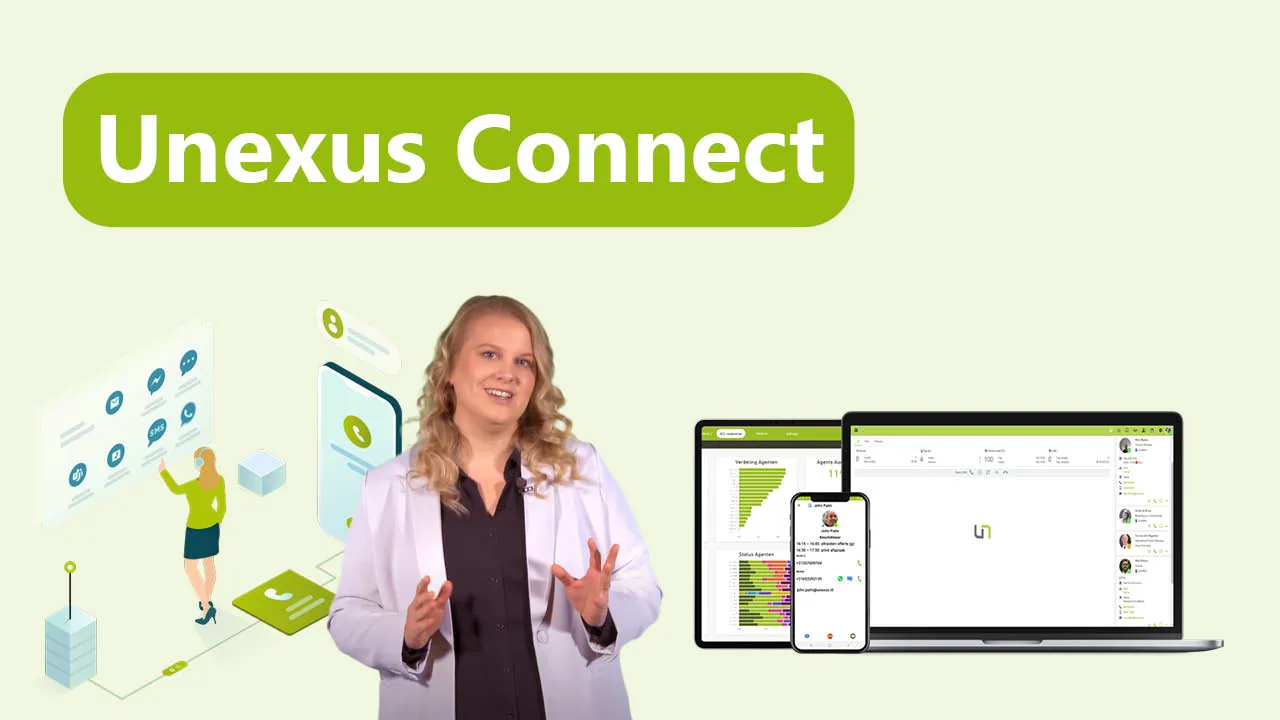 One communication platform
Unexus Connect is an integrated communication platform that is the ideal solution for your contact center and back office. Meet your customers' needs and improve your service level. Using Unexus Connect allows you to unite all communication channels. Process questions efficiently and in a customer-oriented manner. Configure availability with scalable telephony for the front and back office.
Customer service with Dutch amiability
Based on Microsoft technology, this Dutch platform is a basis for many organizations that are working on customer satisfaction and excellent customer service. The software and availability solutions we offer are extensive and intelligent. Thanks to this we guarantee seamless communication between customers and employees.
Customer questions are received in an organized manner. These can then be processed quickly and hassle-free, thereby offering clarity and pleasant contact between customers and employees.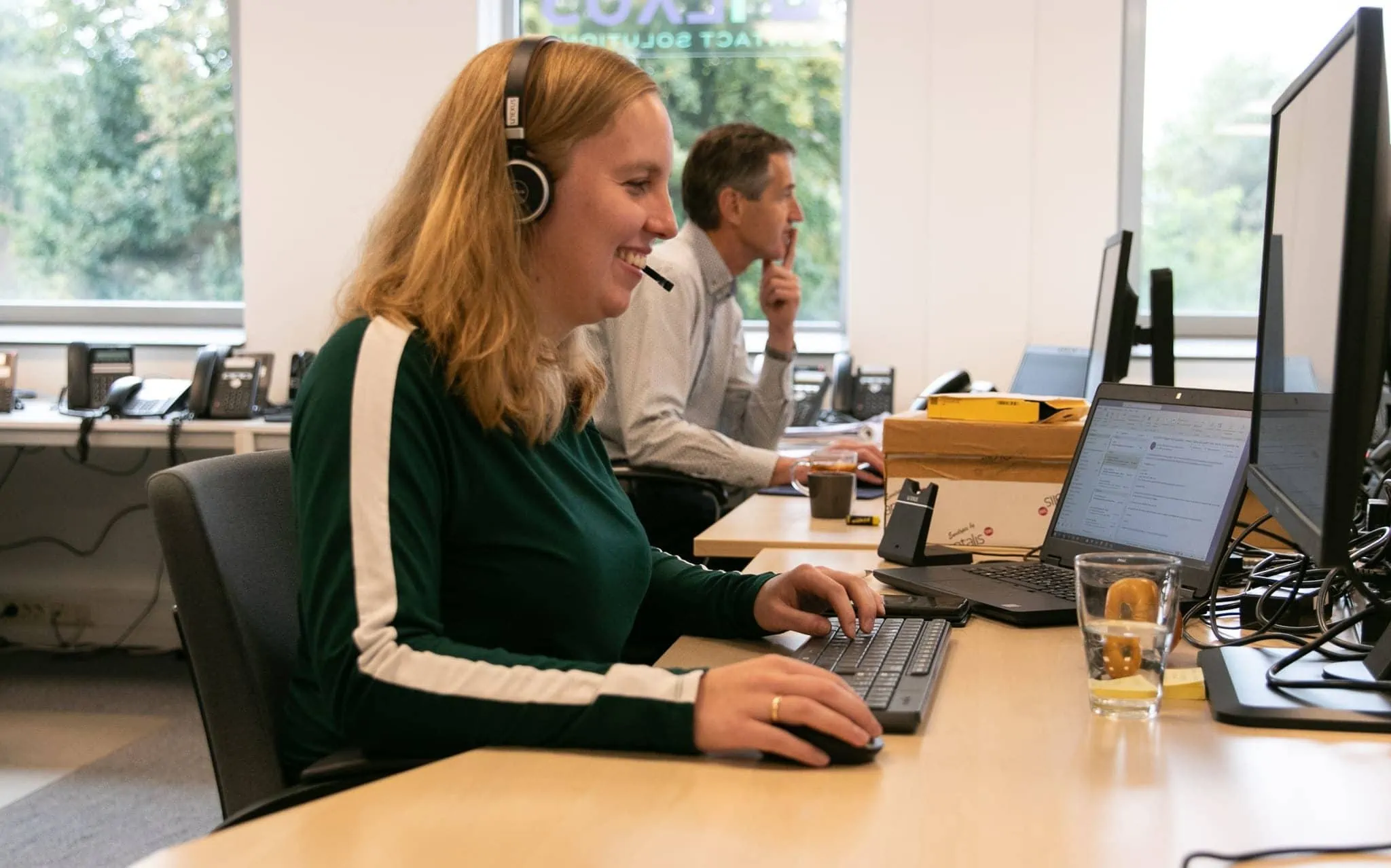 4 reasons to choose Unexus Connect
Omnichannel Contact Center
Equip your contact center for telephony, email, SMS, web chat, WhatsApp and Facebook Messenger.
360º caller information
Screen pop-up with extensive details about the caller, extendable with each application integration.
Hosted in the Unexus Cloud
Choose to have us handle your hosting in our Unexus Cloud. We're eager to add you to our list of happy customers.
Business telephony
Upgrade your telephone switchboard to the cloud. Expand with mobile telephony, fixed-mobile telephony and fixed telephony.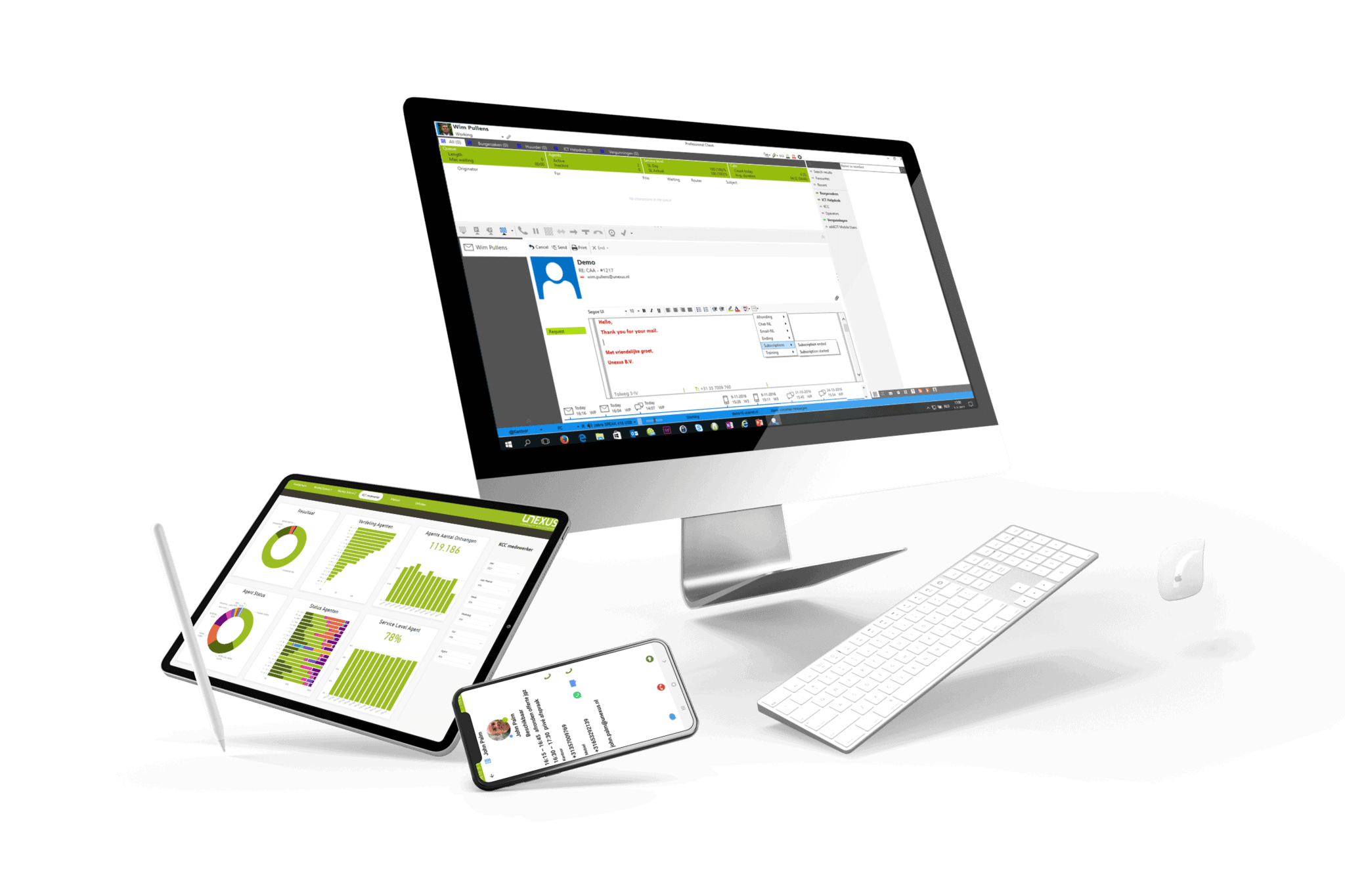 Classic availability with telephony for the entire organization
Unexus Connect is scalable and can therefore be used in both small and large organizations and contact centers. The platform is also perfectly suited for a (private) cloud or hosting environment. The only thing you need to use the software is a web browser.
A phone call, email, SMS or chat message: thanks to Unexus's intelligent routing technology, every message is sent to the correct department or employee.
We organize telephony in cooperation with our partner UMTelecom. This includes fixed telephony, VoIP, fixed-mobile calling and fully mobile telephony.
Intuitive and comprehensive
Organizations are looking for a solution to equip their contact center and the back office. To this end, we have various solutions that you can acquire when using our platform. Using our software is intuitive and always comprehensive. We are your pro-active partner from the very beginning.
We are extremely happy and enthusiastic about our collaboration as well as the telephony system.
Joyce Schellekens
KCC staff, De Dommel Water Board
We notice that Unexus is pro-active about everything. From Covid-related changes to ongoing talks about the ambitions we still have for our communication solutions. They actively brainstorm with us, which is why we are true partners. How can we improve things? For example, they even investigated which headsets best match our telephony.
Arjen van der Zee
ICT Coordinator, Stek Wonen
Unexus Connect is a stable system, and if there's an issue, it's quickly resolved. There is a lot of extensive knowledge at support, and rapid feedback if there are questions and/or problems. You guys pro-actively work with us and also follow the latest trends with regard to social media.
Marlys van Egmond
ICT staff and first point of contact at the Stek Wonen Service Desk
The Unexus omnichannel environment was delivered to the municipality of Venlo to our complete satisfaction. As the implementation project manager, I am highly satisfied with the product and supplier.
Rob aan de Brugh
Information Management Project Manager, municipality of Venlo
Unexus is a very informal company. They don't make things difficult when they don't have to. They have fair prices and honest service provision. Collaboration with them is simply very good, something I am glad to mention.
Andy Heuts
IT Manager, ZOWonen