With Unexus' communication platform, you increase the accessibility of your organisation. By integrating fixed and mobile telephony, there is no need for fixed workstations. Your employees can always be reached via a fixed number, even if they work from home or at 'flexible' workstations. Is no one answering? An individual voicemail can be set up for each employee.
Being able to switch quickly
The software immediately shows whether an employee is present and what his availability status is. A link with the calendar (e.g. Outlook) ensures that an employee's presence status is always up to date. This makes it easier for the operator to switch quickly and provide the customer with the best possible service.
Insight into communication
The reporting tool offers many standard reports. This gives you insight into, for example:
the number of phone calls received and handled,
the accessibility of departments and employees,
the speed with which customers got answers.
Interested in a demonstration of the Unexus Communication Platform?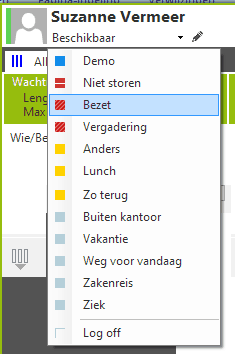 This is Unexus
Unexus has entered into a strategic partnership with CM.com to offer the WhatsApp Business Solution in its platform through CM.com. With the partnership, Unexus underscores its commitment to finding solid partners that add value to our clients. The WhatsApp Business Solution is a valuable and effective channel to strengthen customer service and improve business results.
Read more