Accessibility for the entire organization
The UCS integrated VoIP telephony module ensures optimum accessibility of your organization. The central directory shows the availability of all employees of an organization and makes it able to call your colleague with one click. For each user is an individual voice mail. Fixed workstations are not needed anymore because of the fixed mobile integration .. "Mobile unless' is a common policy which means that use mobile phones are the standard. This ensures mobility and flexibiltiy of your employees. Your employees can work fine from home or on flexible workplaces, while they are accessible via a landline number.
The operator console displays all the relevant information needed to quickly process incoming calls and to provide the customer optimal service. The operator / reception can easily search phone numbers, agenda's or look for contact history. Frequently used numbers and addresses are accessible with just one click.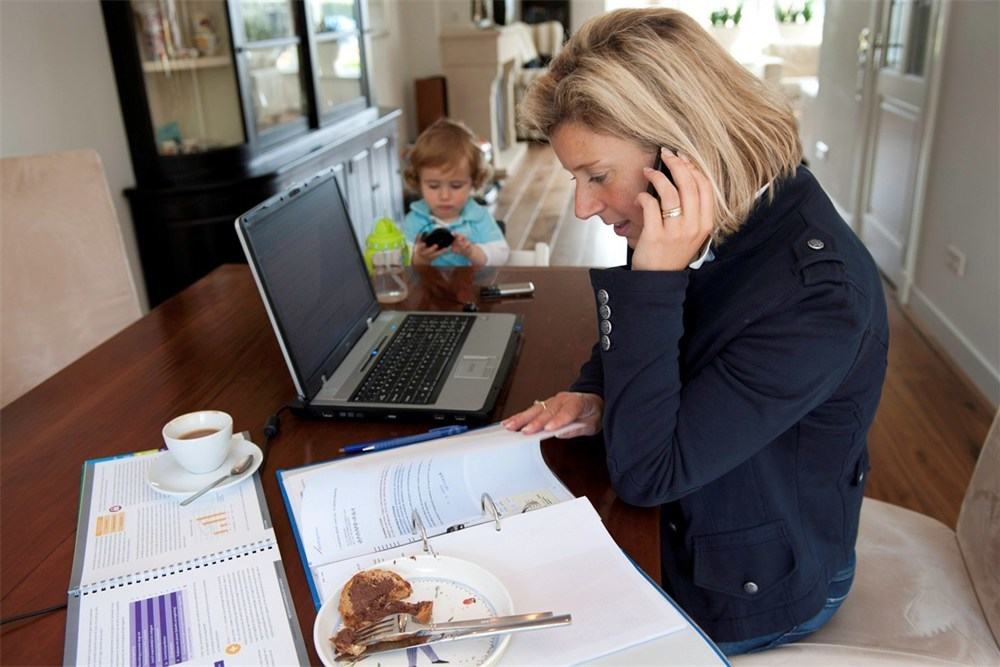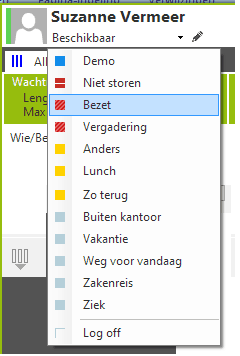 Presence management is the integrated function in UCS for presence and availability information.
From the user interface the presence and phone status of employees is immediately visible. By linking with the calendar (eg Outlook), the presence status of an employee is always current. This makes it easier for the operator to be the link between employees, customers and suppliers. Your customers and business associates will appreciate the efficient service.
The UCS reporting module offers a variety of standard reports.. They give you insight in e.g.:
number of received and handled calls;
accessibiliy of different departments;
speed of answering calls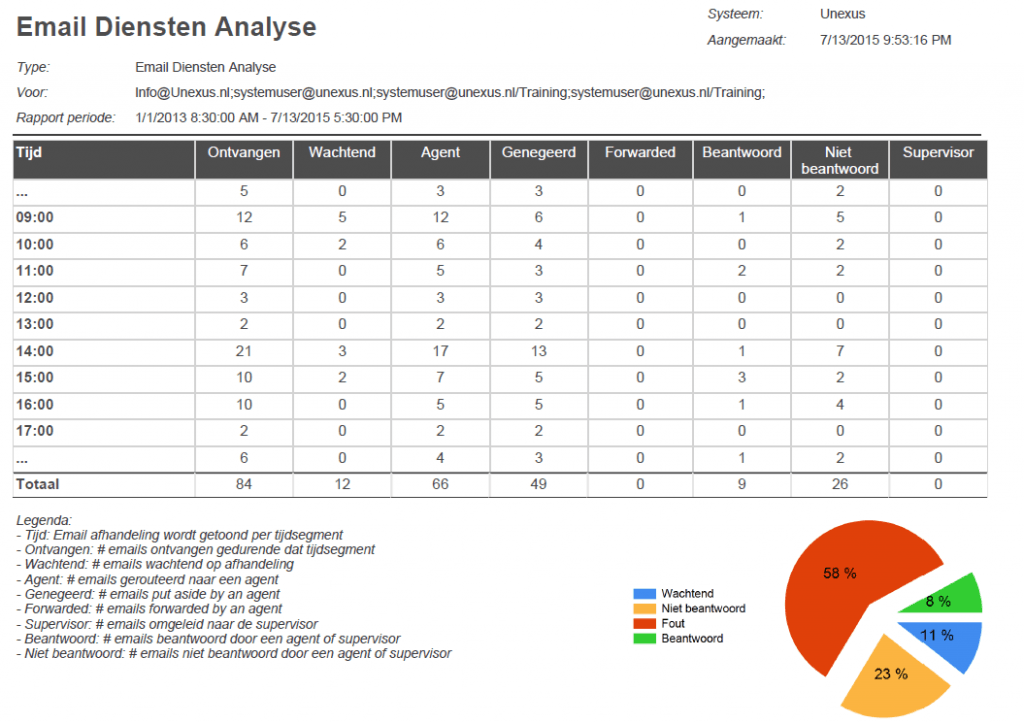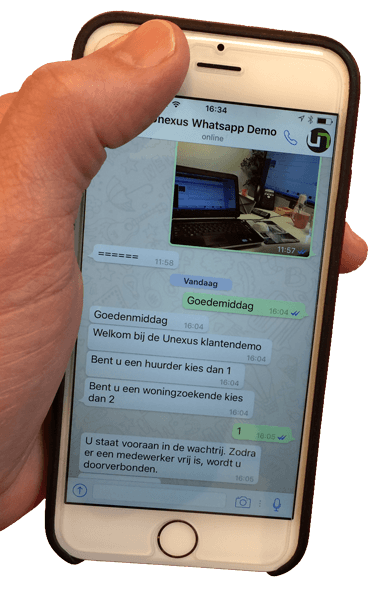 Multichannel Customer service
Because of the ongoing digitalisation customers expect to choose their own communication channel 24×7 to come in contact with organisations. Unexus' solution can make this happen.
The Unexus Multichannel Contact Center is a communication solution for any organization that places high demands to professional customer service. With integrated modules for routing of all channels, call recording, monitoring, customer surveys and outbound module you can contantly monitor the quality and adjust if necessary. Through a menu can choose the features that best suit your customer processes.
Phone, email, web chat, SMS, WhatsApp, video, text and other channels are routed through the same universal queue and intelligent routing mechanism to the right employee or department. By caller identification and integration with the CRM or ERP system, the employee will immediately presented the right customer card. You decide what the optimal criteria for routing are within your organization.
All interactions with your customers and back office departments are recorded and provides ready-made reports. This provides complete visibility into customer contacts, handling and performance. You can monitor real-time your organization according to SLA agreements you made internally. In addition to the integrated reporting data can be read easily in a BI tool for analysis and management reporting.
With the integrated call recording, quality monitoring application and customer satisfaction survey module you continuously have a clear view on the quality delivered by your organization. Through targeted training and coaching, you can monitor the quality. The advanced supervisor area offers all possibilities to monitor performance and make adjustments when needed.
The integrated self-service module of the UCS Multichannel Contact Center allows you to provide a good service to customers 24 hours a day. This automated processes can be set up quickly and affordably within your organization. This increases customer satisfaction and reduces your costs.
Application integration
You get even more out of Unexus Communications Server by integrating our communication platform with your existing communications- and business applications. From CRM to knowledge bank, from tools for agent planning to software for quality monitoring.
From one user-friendly environment, your employees can handle all communications with clients and have access to all relevant knowledge within your organization. Furthermore, all customer contacts are stored centrally in UCS allowing you to monitor the quality of customer services.
In some situations outbound customer contact can be used by means of telephone or SMS to send reminders. This can be reminders for appointments as well as reminders for payment of outstanding rent or other bills. By integrating UCS with other applications, you can offer your customers a better and faster service. Your communication processes becomes more efficient and therefore cheaper.
We have integrated UCS successful with diverse applications for organizations at home and abroad. From standard CRM environments like SAP or Microsoft to applications that have been developed specifically for clients.
The openness of our communication platform allows integration with your business applications and IT environment easily and cost effective. Of course, we provide you with our expert advice. We guide your organization to a successful implementation.
Advantages of application integration:
An increase of customer experience because all information is available
Phone calls are shorter because information is easily available and avoiding transfer
Savings on manpower by using self-service and automated processes
Higher productivity by sending reminders
Integrated reporting
Examples of integrations:
Iris: knowledge and customer tracking system Kubion
Microsoft Lync, Outlook / Exchange, Active Directory and more
Injixo: Work Force Management
Bumicom: Quality Monitoring software
Aareon: Knowledlege customer tracking system
All in one communication solution
Unexus Communications Server (UCS) is a modular, all-in-one software application that can handle all communications between an organization and its stakeholders.
It has a modern architecture comparable with other IT applications and runs in virtualized environments. Unlike others, it requires just one single server. It is Microsoft oriented: it runs on standard Windows server, uses SQL Server database and integrates with Active Directory.
This offers the following benefits:
Lower cost of ownership because of standardization
Ease of use: users are automatically created and deleted
Rapid deployment in different type of environments
Unexus Communications Server is a fully integrated communications platform. It offers the most modern and comprehensive features that in the past were affordable only at very high investments for large organizations. This advanced functionality is now available for any organization.
Unexus Communications Server is scalable and can be used in both small and large organisations and contact centers. For every organization there is a solution that matches the needs. UCS is in-house developed using the latest Microsoft technology and tools. It uses open standards to guarantee maximum compatibility.
This offers the following benefits:
Organisational fit and ability to grow with your organization
Functional flexibility and short resolution times
Option for customization either now or in the future
Ability to re-use existing IP phones
Unexus Communications Server is also very suitable to be run in private cloud or hosted environments. All functionality is available via the portal where clients can be started or downloaded. A web browser is all that is needed.
This offers the following benefits:
Maximum freedom of place, users can work anywhere they want
Short start-up times (days, not weeks)
Minimal initial investment
No IT expertise and/or capacity required

Unexus Connect 365 adds full-telephony and fixed mobile integration to Office 365.
Adding full-telephony and fixed-mobile integration to Office 365 is now possible with Unexus Connect 365. Unexus Connect 365 is a cloud-based telephony solution for any organization that uses already Office 365. It's a flexible solution that can grow with your organization while it does not require any investments. It contains a varity of functions going from an operator to a multichannel customer service and even fixed mobile integration, fully integrated with Office 365, Email, Calendar, and Skype for Business. How great is that!
If you find accessibility, convenience and excellent customer service through modern digital channels important, then Unexus Connect 365 is the solution for your company.